Paintings
Gallery One ALANNA GALLERIES 1 2 3 4 5 6 7 8 9 10 11 12 13 14 15 16 17 18



Watercolour Graphite Ink Embossing

"The Buck"
"The Buck" watercolour and ink approx 24 x 28 inches "
While a friend of mine was visiting a family who lived near Riding Mountain National Park, a
woman, who was also visiting, came face-to-face with a buck as she walked alone on a
wooded path. She was startled when the buck danced and pranced in front of her, but she
was horrified when the hooved creature attempted to mount her. Luckily, the buck fled upon
hearing her scream of terror after which the woman bolted for the safety of the house. I was
quite astonished when I heard this story and it caused me to reflect on the fairy tales in
which animals and humans interact as though they are the same species. In this modern-day
fairy tale, the buck felt it was natural to communicate with the woman in this manner while
she was seriously opposed to the idea. However, this incident did confirm my belief
that some of the old fables involving animals were inspired by occurrences
such as this one described to me.


"And in the Sky a Million Stars"
"And in the Sky a Million Stars"
watercolour approx 38 x 57 cm

"Inside the Ocean"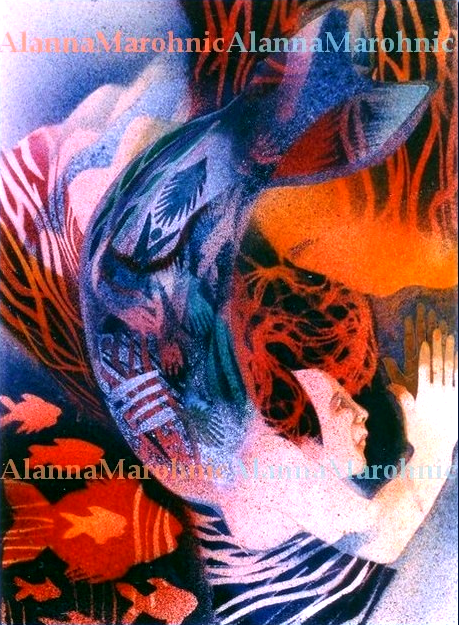 "Inside the Ocean" watercolour and acrylic ink approx 28 x 21 inches

She prays to the ocean, to the element that holds her.
A private moment. A personal moment.
"Joseph"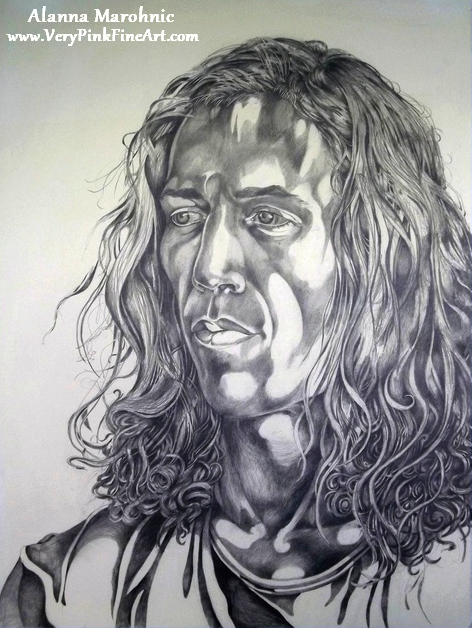 "Joseph" graphite approx 29 x 22 inches

Joseph, my brother, sat for about thirty-five hours for this portrait.
Those hours took place over a matter of weeks with each sitting
usually being about two hours long.
"My Grandmother's Wedding"
"My Grandmother's Wedding"
watercolour and embossing approx 29 x 22 inches click for details

One day, while I was chatting with my grandmother, she happened to tell me that

she had married my grandfather on a snowy February day in her village of Zlobin.

My grandmother had told me many stories from her life over the years and I couldn't

believe that she forgot to tell me this one! In my mind's eye I could see my grandparents,

the guests, the church, and the snow. Although in the end I omitted the snow from the

painting, as I felt it would compete with the white dress, I believe I captured

the essence of the occasion. The indelible memories I gathered as a child during

the summer I spent in the village with my grandmother assisted me with the

details of the church and the clothing.

Self-Portrait
Self-Portrait watercolour approx 29 x 22 inches

Many years ago, while living in Halifax, a friend invited me to clown and
mime with her. She did this work professionally and it was thrilling when she
invited me to join her for street performances. Clowns have always held
a deep fascination for me and they appear regularly in my paints so
it was an unforgettable experience to feel my own clown personae
develop over the weeks. In subsequent years I did some work with a clown
troupe. It was in the evening, after one of our gigs, that I did this portrait.
of myself. I set the paper on the easel and worked until dawn.

"Backstage"


"Backstage" watercolour and graphite 18 x 20 inches


The beauty of this clothesline struck me and I felt compelled to put it on paper.
After considering several ideas regarding where to take the painting next,
I decide to develop a scene in which actors were preparing for a performance.
"When My Eyes are Open"

"When My Eyes are Open" complete image
watercolour and ink size approx 15 x 25 inches (38 x 57 cm)





"When My Eyes are Open" detail






Gallery One ALANNA GALLERIES

1 Paintings

4 Commissioned Work

5 Paintings

6 Angels

7 Paintings

8 Litho/Mono Prints

9 Litho/Mono Prints

10 Art Objects

11 Art Objects

12 Golden Boy

13 Windows & Doors

14 Consignments

15 Gift Shop

16 Caravan Princess Jewellry

17 Travel Art

18 Exhibition Photos