Gallery Seven PAINTINGS Alanna Marohnic
GALLERIES 1 2 3 4 5 6 7 8 9 10 11 12 13 14 15 16 17 18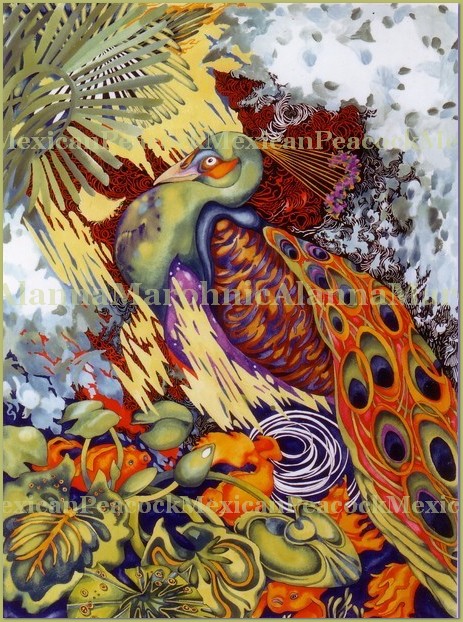 "Mexican Peacock"
watercolour and ink approx 24 x 32 inches

During one my trips to Mexico, I spent some days at a hotel situated
at the very edge of the ocean. Surrounding the hotel were lush ponds replete
with goldfish. Under the palm trees, peacocks and peahens ruffled their
feathers while squawking and screaming. Each day found me in the grounds
painting and drawing, rarely pausing for any reason. This work I produced
during this time served as the inspiration for this painting.

complete image

detail

"Inside the Heart is a Bird"
"watercolour, gouache, ink, graphite 29 x 36 cm
"The Wedding Fish"
watercolour, ink, 23 kt gold leaf approx. 24 x 32 inches
This image symbolizes the power of fate. Into each life glides destiny,
formidable in its strength. We are impotent to rebuff the changes
thrust upon us by this ruthless wisdom.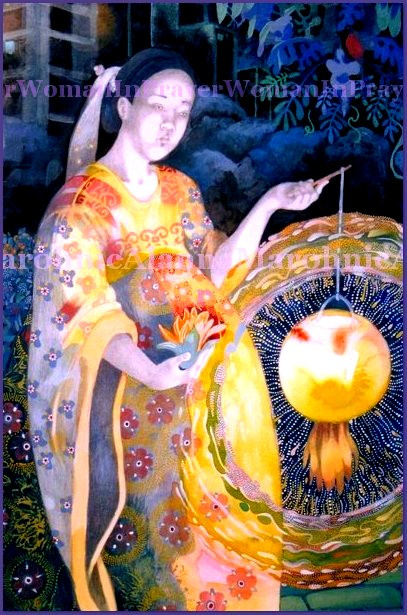 "Woman in Prayer"
watercolour, graphite, acrylic ink size approx. 24 x 12 inches
While living in Busan, South Korea, Ivan and I happened upon
an evening celebration of Buddha's birthday held at the entrance of our
neighbourhood park. The dancers and drummers moved gracefully in their
traditional attire. Lanterns shone as ancient prayers were recited. One lantern
was circulated amongst the crowd of onlookers who were invited to hold it for
a silent prayer before passing it along. As the performance came to a close,
paper flowers were given out to the audience. The memories of that evening
were the inspiration for this work.

"Fish and Bull Head Lilies"
watercolour size approx 28 x 22 inches

One day I became obsessed stencilling. I cut stencils, day and night,
until flaming blisters appeared on my scissor hand. Undaunted by the pain,
I wrapped my fingers in duct tape and continued cutting until I had a
full box of stencils in every shape and size imaginable. This painting is one
from my first series of stencilled works. A great deal of planning is required
to execute a painting in this style.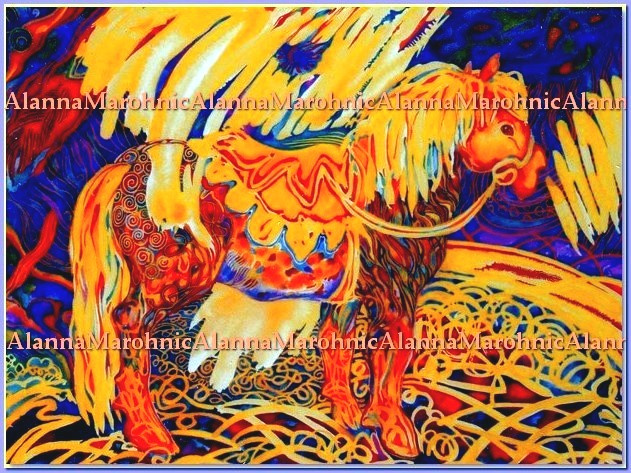 "Circus Pony"
watercolour approx 22 x 28 inches

One autumn, a little circus came to our bush town of Atikokan. Under the tent
we were treated to the skills of acrobats, high wire artists and clowns.
There were no lions, tigers, or elephants. However, there were dogs, ponies,
and a donkey. These animals had an obviously loving bond with the couple who
led them through a simple, though charming, performance. This painting
features one of the ponies, living with all its innocence and trust intact.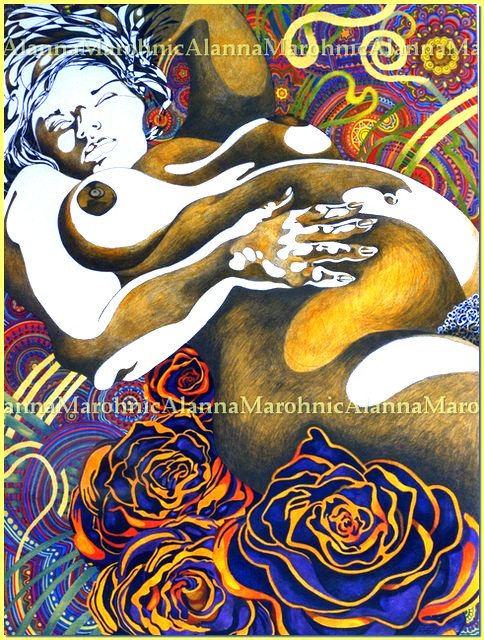 "Ange"
watercolour, graphite approx. 24 x 32 inches

Three days before our friend, Ange Carter, was to give birth to her first child, she
asked me and my mom to paint and draw her nude while she was in this last
stage of her pregnancy Of course, we said yes! Ange was ecstatic in her pregnancy
and she glowed with joy and beauty. As I worked away, I felt overwhelmed by the
combination of profoundly powerful and vulnerable energy emanating from her belly
and the new life inside. Later, I wondered how pregnant women and war could exist on
the same planet because I saw Ange's pregnancy as both a shrine of peace and
a call for peace. I utilized the drawings I did that day to create this painting.


"Ophelia"
watercolour approx 28 x 22 inches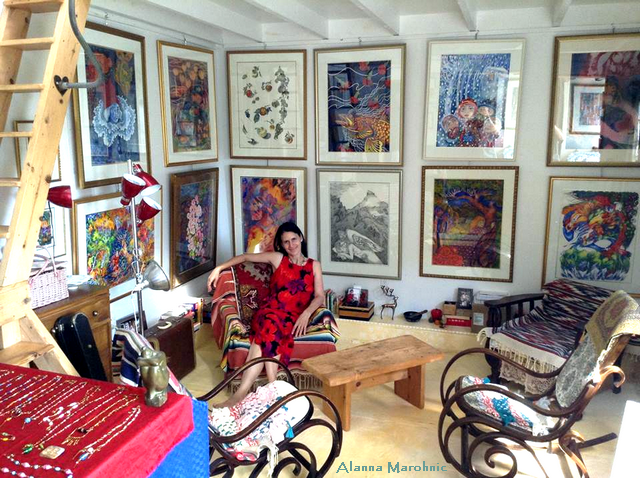 Gallery Seven PAINTINGS Alanna Marohnic
GALLERIES 1 2 3 4 5 6 7 8 9 10 11 12 13 14 15 16 17 18

ABOUT ALANNA CV WORDS BY S. KYLE
1 PAINTINGS 2 PAINTINGS 3 PAINTINGS 4 COMMISSIONS
5 PAINTINGS 6 ANGELS 7 PAINTINGS 8 LITHOGRAPHS
9 LITHOGRAPH 10 OBJECTS 11 OBJECTS 12 LOVELY DOGS
13 CROATIA 14 DREAMS 15 SHOP 16 JEWELLRY
17 TRAVEL 18 PHOTOS