Gallery 7 ALANNA MAROHNIC GALLERIES 1 2 3 4 5 6 7 8 9 10 11 12 13 14
15
16 17
18




Watercolour Graphite Ink Gouache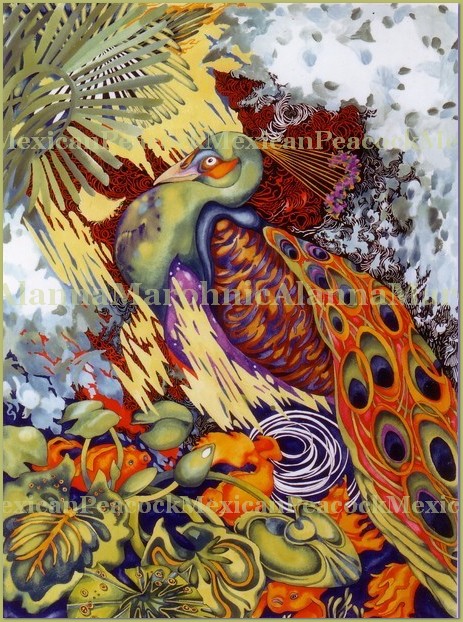 "Mexican Peacock"
watercolour size approx 24 x 32 inches

One year, while traveling in Mexico, I spent a few days at a hotel situated
on the very edge of the ocean. Around the hotel were lush ponds full of
goldfish. In the shade of palm trees, peacocks and peahens ruffled and
squawed. For those days, I hardly left the hotel grounds; there was so
much to paint and draw right there. It was heavenly. The small paintings
and drawings I did were the inspiration for this larger piece.


"Inside Your Heart is a Bird"
"Inside Your Heart is a Bird" (detail)
"Jackfish and Carnations" or "The Wedding Fish" or "Fate"
(Yes, it has three different titles)
watercolor, ink, 23kt gold leaf size approx. 24 x 32 inches

This painting is about the power of life. The fish is destiny. It glides formidably
into my unsuspecting world. My mouth falls open in awe as I am engulfed
by the inevitablity of the changes.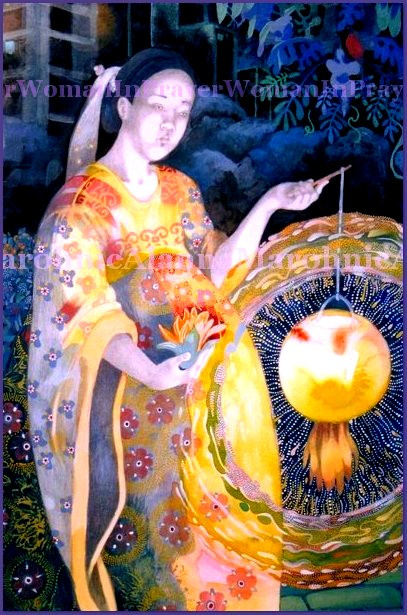 "Woman in Prayer"
watercolour, graphite, acrylic ink size approx. 24 x 12 inches
Ivan and I lived in Busan, Korea, for a few months. It was unforgettable.

One evening we were out walking and we came across an outdoor
celebration of Buddha's birthday. There was dancing and drumming
with all the participants wearing beautiful traditional clothes. Towards
the end we each had the chance to hold one of the lanterns briefly
while saying a silent prayer. The ancient prayers and dances contrasted
with the dark and almost foreboding quality of the highrises
surrounding the park entrance where these festivities took place.
This painting was inspired by the memories of that evening.
"Fish and Bull Head Lilies"
watercolour size approx 28 x 22 inches

One day my head began overflowing with ideas regarding what I could do
with stencils and an atomizer.So, I cut stencils night and day until blisters
flamed on my scissor hand. Undaunted, I wrapped my fingers in duct tape
and continued cutting until I had a box full of stencils in every shape and
size imaginable. This was one of my first stencilled works. It was
excruciatingly mind twisting to do, despite its deceptive simplicity.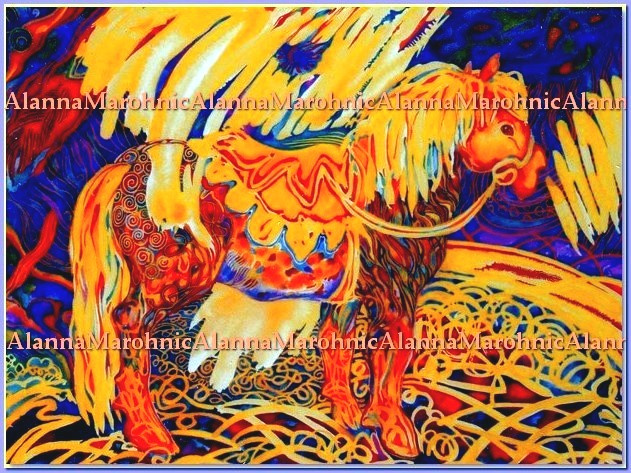 "Circus Pony"
watercolour size approx. 22 x 28 inches

Oh, the innocence of this trusting little pony!! I was happy to see how affectionate
the trainers were with the animals in the tiny circus that came to Atikokan.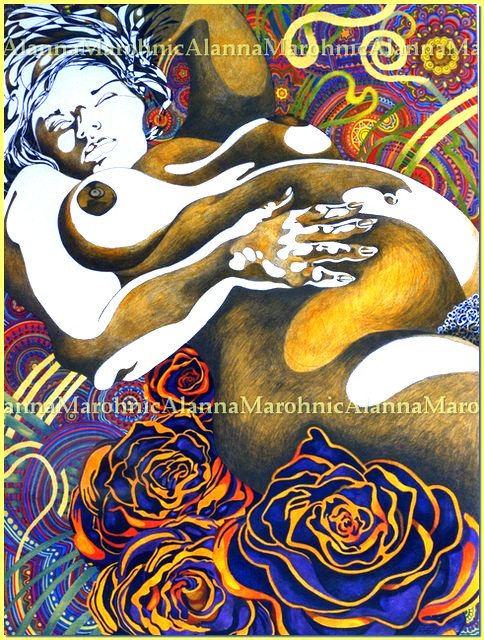 "Ange"
watercolour, graphite size approx. 24 x 32 inches

This is a painting of Ange Carter three days before she gave birth to
her first child. She was ecstatic each day of her pregnancy and
wanted me to draw her before she had her baby. I jumped at
the opportunity. I created this work using the drawings
from the afternoon I spent with her. She glowed
with joy and beauty.
It was my first time seeing a naked pregnant woman and I was
struck by the awesome miracle of this impending birth. I thought
of all the women, now and throughout time, who have given
birth. Later, I wondered how pregnant women and war could
exist on the same planet. Ange's bare pregnant belly looked
like a shrine to peace to me.
"Ophelia"
watercolour size 28 x 22 inches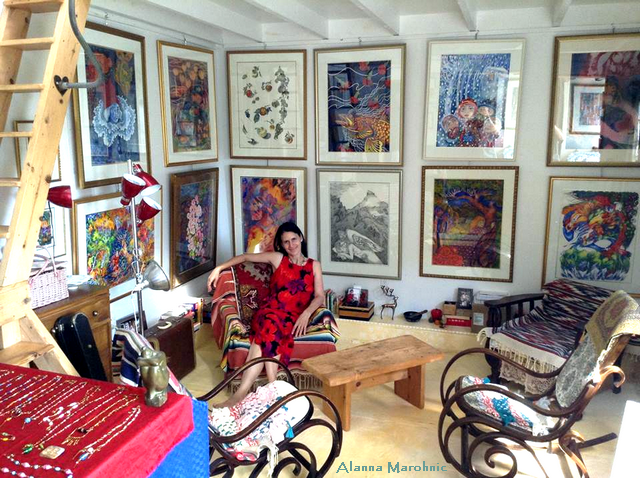 Gallery Seven ALANNA'S GALLERIES 1 2 3 4 5 6 7 8 9 10 11 12 13 14
15
16 17
18
ABOUT THE ARTIST
ARTICLE
PHOTOS
CV/BIO
1 Paintings - 2 Paintings - 3 Paintings - 4 Commissioned Work
5 Paintings - 6 Art Cards - 7 Paintings - 8 Litho/Mono Prints
9 Litho/Mono Prints - 10 Art Objects - 11 Illustrations
12 Golden Boy - 13 Windows & Doors - 14 Consignments
15 Art Posters - 16 Caravan Princess Jewellry
17 Travel Art/Writing - 18 Exhibition Photos