Caravan Princess Jewellry
Gallery 16 ALANNA GALLERIES 1 2 3 4 5 6 7 8 9 10 11 12 13 14
15
16 17
18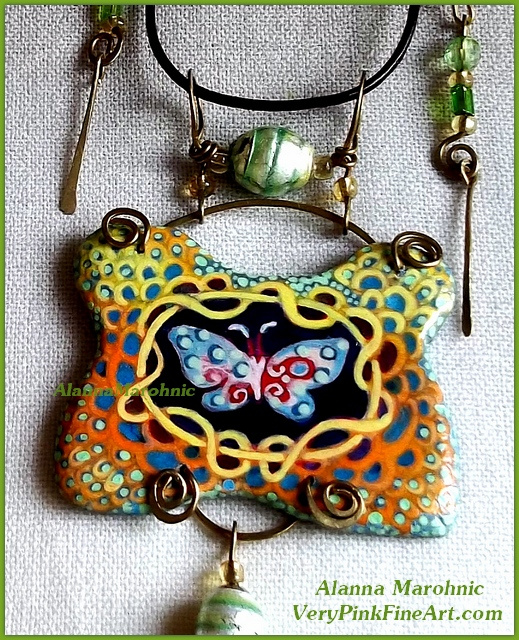 "Divine and Complex Faith"
pendant approx. 6 x 3 inches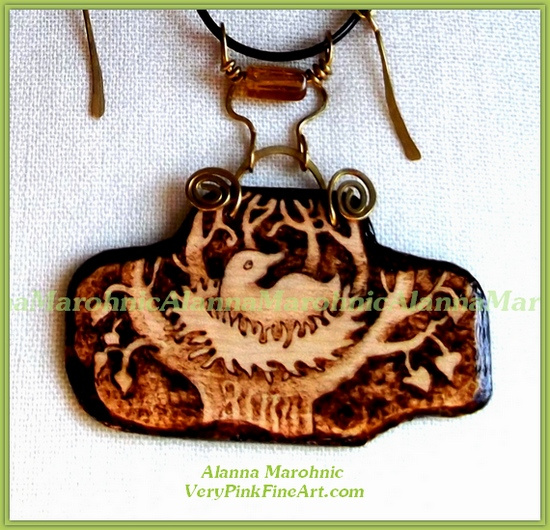 "I Saw the Nest With My Own Eyes"
pendant approx. 3 x 3 inches
measurements include wire work

Recently. while I was visiting a friend, we saw a robin in the garden sitting
in her nest. I committed this tender sight to memory because I wanted to remember it
for myself and also so I could someday put this brave little nesting bird into one of my
works of art. And, here it is. It doesn't matter if we have advanced TV screens, or even IMAX,
nothing, absolutely nothing takes the place of seeing something with your own eyes.
"In a Faraway Forest" (front and back views)
pendant approx. 4 x 2 inches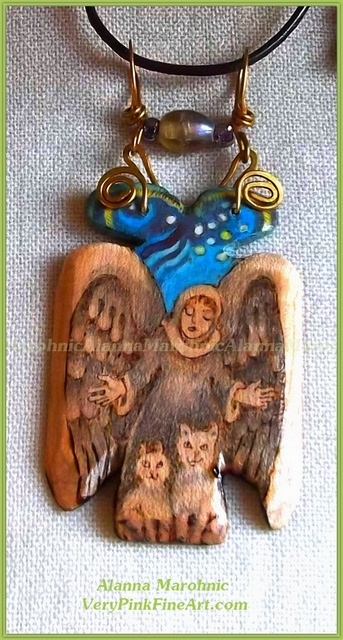 "Cats in Heaven"
pendant approx. 4 x 2 inches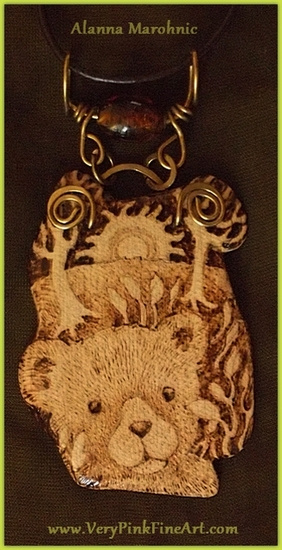 "The Sunshine of Early Spring Warms the Earth"
pendant approx. 3.5 x 2 inches
"Flying Together"
pendant approx. 4 x 3 inches
"Dream Come True"
pendant approx. 4 x 3 inches


"Kitty Comes Home"
pendant approx. 3.5 x 1.5 inches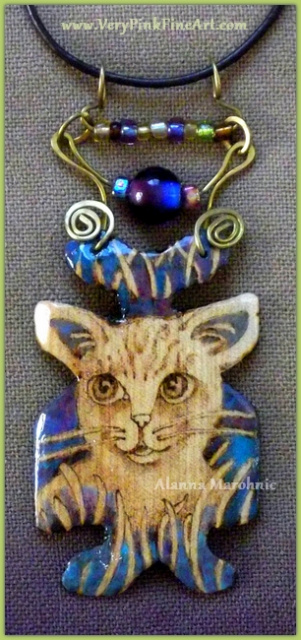 "In the Field of Tall Grass"
pendant approx. 4 x 2 inches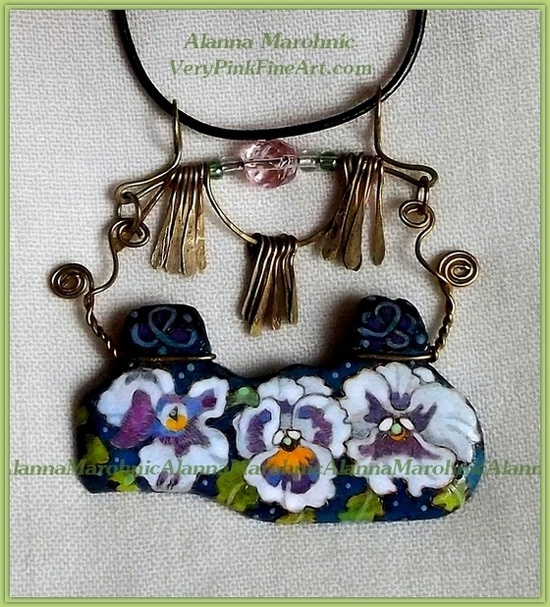 "My Three Children"
pendant approx. 3 x 3 inches


"Spontaneous Prayer in the Garden of Roses"
pendant approx. 3.5 x 1.5 inches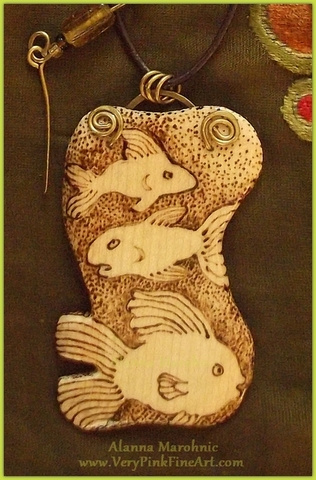 "Deep Water" (front and back views)
pendant approx. 3 x 2 inches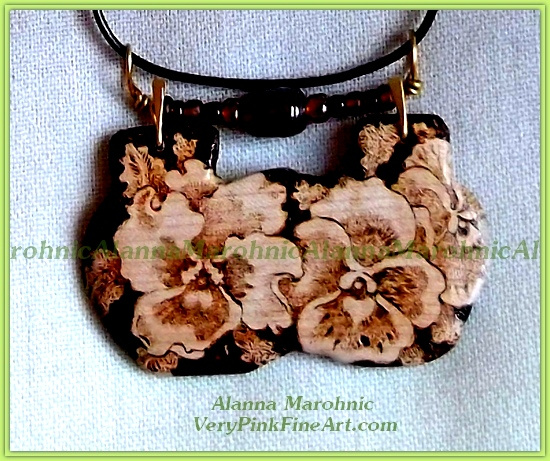 "In the Garden of Divinity"
pendant approx. 3.5 x 3 inches



"The Dancing Heart"
pendant approx. 4 x 2 inches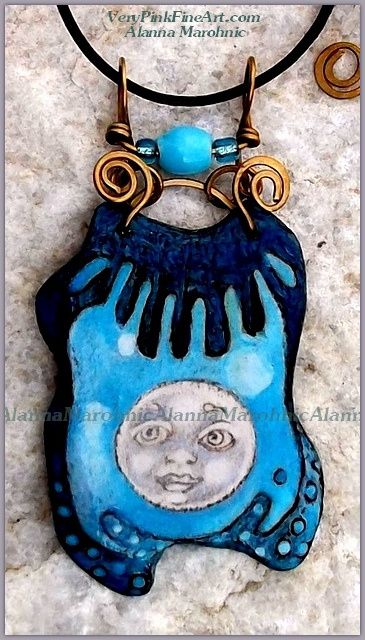 "The Princess and Her Birds"
pendant approx. 3 x 3.5 inches



"Head-Over-Heels"
pendant approx. 4 x 1.5 inches



"Mischief Makers"
pendant approx. 3 x 2.5 inches
The Process of Creating a Necklace
First I clamp the birch to a working table and cut out the shape by hand with a little coping saw
(so far I have being doing everything by hand, no electric tools yet). The next step is shaping with
files and then the sanding. I start with 150 sandpaper and go all the way up to 1500, the latter
sandpapers being designed for automotive use, but they work well to give the wood an outstanding
silky smoothness which makes a perfect surface on which to wood burn. Then I add acrylic to
the ones that have colour. Once the image is complete, the varnishing begins. I use either gloss
or satin varnish that contains UV protection. Now comes designing the metal and bead work which
requires very customized attention. Certainly it isn't a one size fits all process. The metal (brass
and/or copper) and beads act as a "frame" and, like framing, must be balanced and bring out the
image in a pleasing manner. I never know ahead of time how each one will develop: the end
result surprises me every time. With this process in mind, I have collected a very wide assortment
of beads, some antique, some handmade, some are crystal, some are bone, and some are
porcelain (of course, none are plastic).It is wonderful to have all these colours and textures right
within reach as I am working and looking for just the right colours to enhance each wearable
miniature painting.

Caring for your Storytelling Necklace
Each necklace is made with the highest professional quality materials. The varnish contains
UV protection. However, your miniature painting still requires proper care. I suggest that, when
you are not wearing your necklace, you hang it somewhere away from direct sunlight. Hang it
somewhere where you will enjoy looking at it when not wearing it.
The varnish is sturdy, but not made of diamonds, therefore avoid putting it in locations where
it may get scratched, for instance, on a hook with other necklaces. As well, avoid tossing it into
your jewelry box amongst items with sharp edges. Your will necklace stay in wonderful condition
for many years to come if you follow these few important suggestions.
Gallery 16 ALANNA MAROHNIC GALLERIES 1 2 3 4 5 6 7 8 9 10 11 12 13 14
15
16 17
18
ABOUT THE ARTIST
ARTICLE
PHOTOS
CV/BIO
1 Paintings - 2 Paintings - 3 Paintings - 4 Commissioned Work
5 Paintings - 6 Angels - 7 Paintings - 8 Litho/Mono Prints
9 Litho/Mono Prints - 10 Art Objects - 11 Illustrations
12 Golden Boy - 13 Windows & Doors - 14 Consignments
15 Art Posters - 16 Caravan Princess Jewellry
17 Travel Art/Writing - 18 Exhibition Photos