Gallery Three PAINTINGS Alanna Marohnic
GALLERIES 1 2 3 4 5 6 7 8 9 10 11 12 13 14 15 16 17 18

"The Shoe" complete image

detail

detail

detail

detail

detail

detail

detail

detail

detail

detail

detail

detail

detail

detail

detail

detail
\l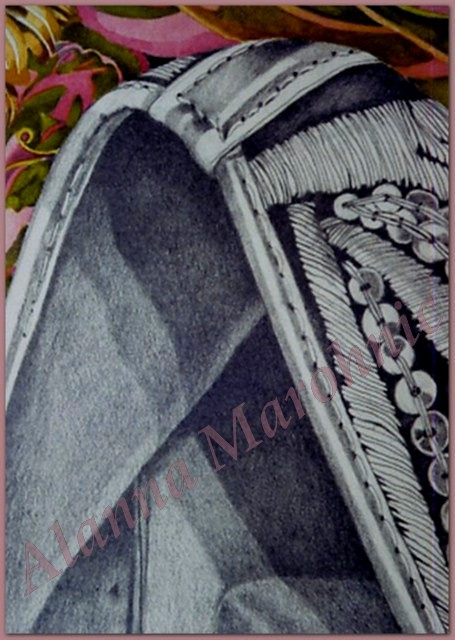 detail
"The Shoe"
watercolour and graphite approx. size 32 inches x 24 inches
I found this sequined shoe at a second-hand store while living in
Medicine Hat, Alberta. Within a moment I knew the shoe would
feature in my next painting. Once I
completed the shoe, it called
to have flowers surrounding it. So, whenever Ivan
gifted me with roses,
I would paint them, as well as other suitable blooms, into the painting
.
The butterflies and insects are from a natural history museum in the city
where I'd go to
sketched from time to time. Although many of my paintings
require several months to complete, t
his one demanded an entire year.

complete image

detail

detail

detail

detail

detail

detail

detail

detail

detail

detail

detail
watercolour and graphite
approx size 32 inches x 24 inches
Until I experienced living in Hsinchu, I thought I craved nature and peace, but to my
surprise I discovered that nothing suited me better than the
rollicking chaos of this city.
I found the ultra crowded streets filled me with euphoria..The incense wafting from
the temples situated on every corner,
mingling with the tang of concrete
and the
oily fumes exhaled by fans from the back of restaurants, created a heady perfume
that captured me tight in its thrall.
The slashes of jungle crisscrossing the city
were islands
of mystery perpetually
reaching out with tropical tendrils attempting
to devour the buildings
and tear up the streets. Everyone and everything
danced together with vigour, knowing that
life is meant to
be
celebrated
in the most intense manner possible.

detail



"The Day I Quit School"
watercolour, graphite, gouache, acrylic,
Gallery Three PAINTINGS Alanna Marohnic
GALLERIES 1 2 3 4 5 6 7 8 9 10 11 12 13 14 15 16 17 18

ABOUT ALANNA CV WORDS BY S. KYLE
1 PAINTINGS 2 PAINTINGS 3 PAINTINGS 4 COMMISSIONS
5 PAINTINGS 6 ANGELS 7 PAINTINGS 8 LITHOGRAPHS
9 LITHOGRAPH 10 OBJECTS 11 OBJECTS 12 LOVELY DOGS
13 CROATIA 14 DREAMS 15 SHOP 16 JEWELLRY
17 TRAVEL 18 PHOTOS