Gallery Thirteen CROATIA Alanna Marohnic
GALLERIES 1 2 3 4 5 6 7 8 9 10 11 12 13 14 15 16 17 18


"Emerald Archway"
watercolour and ink approx 4 x 5 inches
Zagreb is full of some of the most beautiful architecture
I have ever seen. Everywhere your eyes turn, there is
something exquisite to see.
"Abandoned House in Krapina"
watercolour and ink approx 2 x 4 inches

When we visited the Croatian town of Krapina, located near
the border of Slovenia, this little abandoned homestead
caught my eye. Night was falling fast, butt I grabbed my
ever-present sketchbook; I knew if I worked quickly,
it was still possible to get a drawing of the house.
Later, I used the drawing to develop this painting.
When I come upon abandoned homes, I often think of the history
they hold. Throughout the years, the inhabitants were full of plans, aspirations,
and hopes for the future. They had their share of successes, failures, joys,
and tragedies. This richness of these experiences permeates the home
to such an extent that those who pass by can feel that legacy of
emotions emanating from the crumbling walls.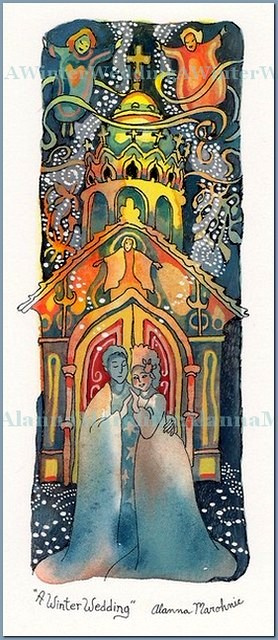 "Winter Wedding"
watercolour and ink
size approx 2 x 6 inches

One December evening, my mother and I were walking
through the Old Town in Zagreb where we chanced upon
a wedding party emerging from an ancient church.
At that moment, the seed was planted for this painting.
"Zagreb"
watercolour and ink approx 1 1/2 x 2 1/2 inches
The buildings in Zagreb were created by
fantastically skilled artists and artisans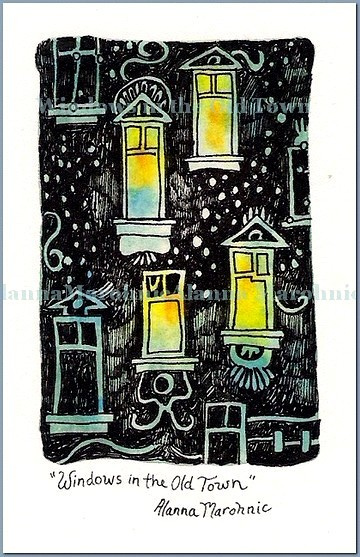 "Windows in the Old Town"
watercolour and ink approx 2 x 3 inches

On a cold winter's night in Zagreb, after a stroll through city streets,
Ivan and I sat with our thermos of tea on a bench located in a park giving us
a view of the Old Town. Through tree branches and over the stone wall,
we could see the backside of several grand apartment buildings
up on the hill. Some windows glowed with light and some were dark.
"The Beauty of Zagreb"
watercolour and ink approx 2 x 4 inches
I find the mood of Zagreb's architecture to be an
unusual mixture of fanciful and solemn.
"The Beauty of Your Mind"
watercolour, graphite, and embossing approx 4 x 6 inches.
Your own mind is a pathway to a land of pristine beauty.

"Without Despair"
faith returns
watercolour and ink size approx 3 x 7 inches
Gallery Thirteen CROATIA Alanna Marohnic
GALLERIES 1 2 3 4 5 6 7 8 9 10 11 12 13 14 15 16 17 18

ABOUT ALANNA CV WORDS BY S. KYLE
1 PAINTINGS 2 PAINTINGS 3 PAINTINGS 4 COMMISSIONS
5 PAINTINGS 6 ANGELS 7 PAINTINGS 8 LITHOGRAPHS
9 LITHOGRAPH 10 OBJECTS 11 OBJECTS 12 LOVELY DOGS
13 CROATIA 14 DREAMS 15 SHOP 16 JEWELLRY
17 TRAVEL 18 PHOTOS