Gallery 8 ALANNA MAROHNIC GALLERIES 1 2 3 4 5 6 7 8 9 10 11 12 13 14
15
16 17
18




STONE LITHOGRAPHS AND MONO PRINTS
"Falling Leaves"
hand painted stone lithograph approx 6 x 9 inches

Autumn brings a richness of feeling, a strange combination of
tender sorrow, elation, and soaring joy. These feelings were
never so crystalized as when I experienced autumn in Croatia.
This image had its germination from my memories of walking
through the parks in Zagreb as leaves fell to the
ground all around me.


"After the Rain"
watercolour and acrylic
with block printing
size approx 8 x 5 inches

This painting is about walking
the bush roads after a rain and
noticing how the moisture brings
out the colours and scents
of the forest.


"Afternoon Bath"
handpainted stone lithograph
size approx 10 x 16 inches

When we were young, my parents decided to buy a
house with no running water. In fact, our lifestyle
resembled that in "Little House on the Prairie"
to a great degree.

The people from whom we bought the house
were Finnish homesteaders and they left behind
a large alumium tub in which my mom would bathe
us in the summertime when we were small.

Although our tub was grey, the roses I've painted
on the one in this litho convey how I felt about
having a bath in our rustic tub.
"Blue Sky Angel"
watercolour and ink
approx. size 3 inches x 5 inches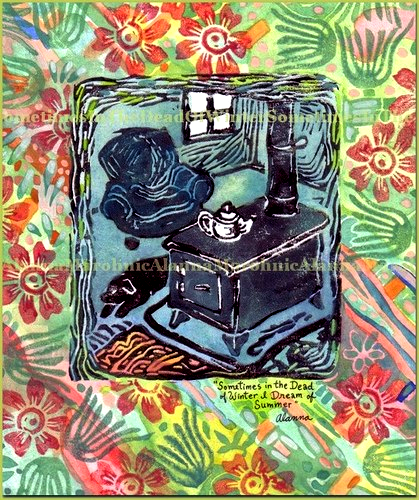 "Sometimes in the Dead of Winter
I Dream of Summer"
block print and watercolour
size approx 5 x 5

The woodstove is your lifeline when you live in northern Ontario
where winter temperatures plummet to -40 Celsius. You are
ever so grateful to the stove for supplying you with its luxuriant
heat. But, on those extra-cold days, when you feel the deadly cold
penetrating through the very walls of your house, you may find
your mind wandering to the warm days of summer. Those
carefree days that require no building of fires, no thick wool
socks, no extra blankets on the bed. And, you can hardly
believe that you live in a region that gives you 3ft of ice on
the lakes in the winter and yet in the summer you can
dive into the very same lake without
shivering too, too much.


"Forever and Ever"
watercolour and ink with block printing
approx. size 6 inches x 8 inches


"In the Park" (left)
hand painted stone lithograph
size approx 6 x 9 inches

The parks in Zagreb were always full of people: elderly men sitting in the sun,
grandmothers playing with their grandkids, idle men looking for distractions,
lovers smooching, mothers with babies, teenagers laughing,
young boys smoking, and mothers with babies.

"Wild Blueberries"
handpainted block print
approx. size 4 x 6 inches


"Intermission"
watercolour, ink, monoprint
approx size 4x 6 inches


"Even the Branches Danced with Joy"
watercolour, ink, with block printing
size approx. 5 x 7 inches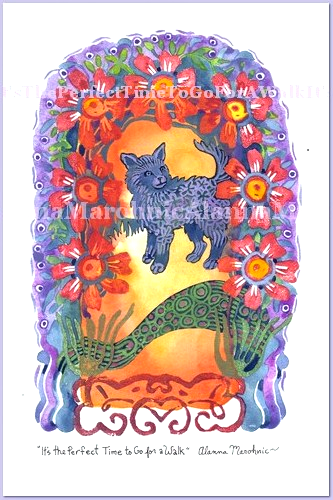 "It's the Perfect Time for a Walk"
watercolor with block printing
size approx. 5 x 7 inches

The electrifying beauty of the natural world make me
want to celebrate it on paper. Tragedy, loss, and longing
open me up in new and painful ways. And, then there
are the days when I feel light-hearted and
rambunctious. All these feelings beg to be
expressed in my paintings.
Gallery 8 ALANNA MAROHNIC GALLERIES 1 2 3 4 5 6 7 8 9 10 11 12 13 14
15
16 17
18

ABOUT THE ARTIST

ARTICLE

PHOTOS

CV/BIO

1 Paintings - 2 Paintings - 3 Paintings - 4 Commissioned Work
5 Paintings - 6 Art Cards - 7 Paintings - 8 Litho/Mono Prints
9 Litho/Mono Prints - 10 Art Objects - 11 Illustrations
12 Golden Boy - 13 Windows & Doors - 14 Consignments
15 Art Posters - 16 Caravan Princess Jewellry
17 Travel Art/Writing - 18 Exhibition Photos